2023 Events 
Patient Navigation & Community Health Worker Training
Webinar: Digital Readiness and Building Digital Health Literacy
Date: 5/2/23 (Virtual)
Description: In this 1-hour interactive webinar hosted by PNTC, AHIMA Foundation experts provided an overview of digital health literacy and digital readiness in combating health inequities. Participants learned how to go beyond basic definitions and examine new tools to evaluate digital readiness at the individual patient level for improved health outcomes. Those interested in the evolving role and impact of digital health navigation in healthcare settings were encouraged to attend. 
Interagency Committee on Disability Research April Lunch & Learn 
Webinar: Disability Cultural Competence in Health Care
Date: 4/26/23 (Virtual) VIEW ARCHIVED WEBINAR 
Description: Researchers from AHIMA Foundation and the American Foundation for the Blind presented their projects and findings related to disability cultural competence, access, and inclusion. At the end of the presentations, there was a 15-minute question-and-answer session with the audience. The audience included a wide range of ICDR stakeholders, federal interagency partners, researchers, practitioners, disability organizations and ICDR Committee members. 
2022 Events
AHIMA22 Global Conference
Conference Session: Web Accessibility Compliance Explained 
Dates: 10/11/22 (Columbus, OH) & 11/10/22 (Virtual)
Description: Attendees learned evidence-based steps for improving their digital experience for patients with disabilities and injuries preventing them from fully accessing the healthcare information they need. Presenters included experts from AHIMA Foundation, Perkins Access, and Fredrikson & Byron. They shared research findings, the latest changes in WCAG 2.1, and offered a case study on a healthcare organization that successfully improved web accessibility by becoming compliant with the guidelines.
Frontiers Health Global Conference 2022 
Conference Session: Addressing Unequal Access to Digital Healthcare for People with Disabilities
Date: 10/21/22 (Virtual) 
Description: When hospital websites and web-based tools, such as patient portals, are designed for people with a broad range of abilities it benefits everyone – including people without disabilities and older adults. However, many digital access barriers exist. This session provided an overview of AHIMA Foundation's research into the role of web accessibility in increasing the proportion of people who can equitably view, download, and send their electronic health information. From an accessibility program implementation and compliance perspective, the Disability Equity Collaborative shared challenges, opportunities, and lessons learned from ADA coordinators working in diverse healthcare organizations.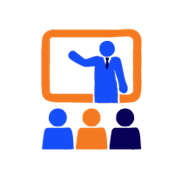 Interested in AHIMA Foundation representation at your next event? Members of our staff frequently speak on health and education industry panels, present research findings, and provide instruction on digital health literacy and digital health equity topics.