Although more online healthcare options improved access for many, the lack of broadband internet is another barrier faced in accessing health information and services.
Broadband Internet Basics
Broadband internet is high-speed internet. Broadband is required for internet services that need a lot of information to be sent and received. This includes using telehealth or having an online video visit with a healthcare provider.
Broadband speed is measured in Megabits per second or Mbps. The Federal Communications Commission (FCC) recommends at least 25 Mbps or more of download speed for an advanced level of internet service.
The main types of broadband internet
You can buy broadband internet for your home from a broadband provider such as a local telephone or cable company.
The Effects of Broadband Internet on Health
Even before the pandemic, over 5 in 10 people used the internet for health-related activities such as researching health information or accessing health insurance.
Due to social distancing requirements, there was a sharp rise in the use of telehealth during the pandemic. For example, one large health system in New York saw an 8 times higher number of telehealth visits per day between early March to mid-April of 2020.
Inequities in accessing health information and services online
Seeing (not just hearing) your healthcare provider. A study in the American Journal of Managed Care found that people living in areas with low broadband access were less likely to use video visits over telephone visits early in the COVID-19 pandemic.
Logging into patient portals. Almost 9 in 10 healthcare providers offer a patient portal or online website for people to access their personal health information. However, a study in the Journal of General Internal Medicine found that on average, only about 3 out of 10 people use their patient portal. The researchers found that people living in areas with the lowest broadband access were less likely to use their patient portals.
Signing up for the COVID-19 vaccine. Vaccination remains a key tool for protecting people from severe illness and death from COVID-19. However, it was challenging for many, especially older adults, to schedule vaccine appointments online due to barriers such as a lack of internet access. A study in Preventing Chronic Disease found that the COVID-19 vaccination rates were lower in New York City zip codes with lower rates of household internet access in April 2021.
Lack of broadband as a social determinant of health
Broadband internet allows people to access the other important non-medical factors in their life, known as the social determinants of health, that have a large impact on their health. This includes things like being able to work remotely and access education online. In this way, access to broadband internet has been considered a "super" social determinant of health (SDoH).
The FCC interactive map shows that areas with lower rates of broadband access tend to have:
Higher rates of obesity and diabetes
Higher rates of preventable hospitalization
Lower physician access
This shows people are missing the ability to access healthcare online in areas where they need it the most.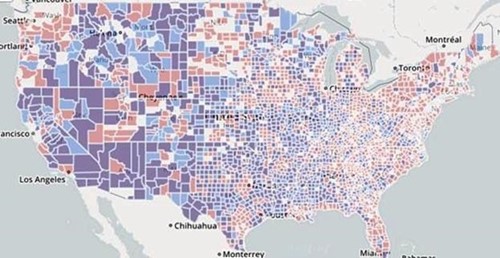 Counties highlighted in purple have a "double burden" of lower rates of rural broadband access (less than 50%) as well as physician shortages (80 or fewer per 100,000 people). Image Source: FCC
Number of Americans with Internet Subscriptions
According to the American Community Survey, about 86% of households in the United States had any kind of internet subscription in 2020.
Only about 70% of households had a broadband internet subscription such as cable, fiber optic, or DSL, and about 7% of households had satellite internet service.
About 11% of households only had a cellular data plan with no other type of internet subscription.
About 15% of U.S. households--more than 17 million--had no internet subscription in 2020.
The Digital Divide
There are inequities, or unfair differences, in who does and who does not have high-speed internet access. 
In 2021, the rates of wired high-speed internet use were lower in households where the main renter or owner was 65 years or older, had a disability, or was a Hispanic, African American, American Indian, or Alaska Native individual.
In addition, households located in rural areas were also less likely to use high-speed internet services. According to the FCC, fixed broadband services are available for almost 98% of people living in urban areas. On the other hand, just over 70% of people living in rural or tribal areas have broadband services available to them.
Even if broadband internet is available in a community, the costs can make it unaffordable for people with lower household incomes. 
While over 8 in 10 households with incomes above $100,000 used wired high-speed internet service at home, only about 5 in 10 households with incomes below $25,000 did in 2021.
Initiatives to Help Improve Broadband Access in America
There are currently many initiatives to make broadband internet more accessible and affordable for people across the U.S.
The Affordable Connectivity Program is a federal program that gives eligible households up to $30 per month for broadband services. It gives up to $75 per month to households on qualifying Tribal lands. This program also can give one-time discounts to buy a laptop, desktop computer, or tablet.
Lifeline is a federal program that gives people from eligible households a monthly discount for phone and internet services. Lifeline benefits can be used separately or together with Affordable Connectivity Program benefits.
Internet for All is an initiative by the federal government to provide $65 billion in funding to states, communities, and internet providers to improve planning, infrastructure, and adoption of high-speed internet.
Once everyone can access high-speed internet, the next step is ensuring they have the tech devices and digital health literacy skills to use health information and services online.
Advocating for broadband access for all is a vital first step to ensuring that the benefits of online technologies can equitably improve health.
Additional Information:
'Digital divide' is a term used to describe the gap between people who do and don't have the access and ability to use technology.